Desktop: No Audio on Radio Channel Page? Try Firefox
Written by DJ Ripster on 23/01/2017
Recently Adobe Flash has been giving our listeners problems while tuning into our radio channel pages on their desktop computer. Where you'll press play on our radio media player and then no audio will come out.
Desktop Solution: I recommended to try Firefox then follow the firefox diagram screenshot below:
• Click on the logo-like icon at the top left of your Firefox browser URL box.
• Click "Continue Allowing" when asked, "Adobe Flash" is enabled on http://wp.bigbradio.net.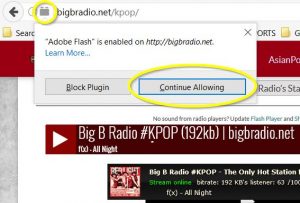 Also try other web browser like Microsoft Edge or Internet Explorer.
Hope this helps many desktop BBR listeners tuning into Big B Radio.
If you're having audio issues on your mobile browser. I recommended downloading TuneIn App or Radio.net App to tune into Big B Radio.
Happy listening, everyone.
---
---