FIX: No Audio on Chrome
Written by DJ Ripster on 02/03/2017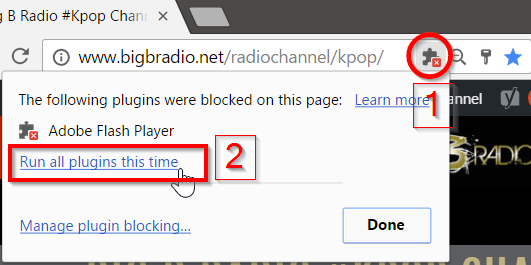 Listeners were having difficult time listening to music on our radio players on Chrome desktop browser for the past 2 month.  Unfortunately, there were issues with Chrome and also TuneIn's player due to new security concerns that cut off the audio from our radio players from playing.
Recently I was able to tune in using our radio players on Chrome using the following method:
Click the Plugin icon at Chrome URL box on top.
Click on Run all plugins this time link in the Plugins popup window.
Click Done.
Then press the play button on your favorite Big B Radio player to tune in on Chrome.
Happy listening and thank you for your support to Big B Radio.
---
---